Teacher's Companion
Built for FileMaker


Secured Purchase We use a payment gateway that serves securely over HTTPS via a 256-bit encryption certificate from Symantec.
Teacher's Companion
Use as-is for your Teaching, Tutoring or Instructing business
Customise it further to suit your needs – 100% completely unlocked
Purchase the latest full-featured version of Teacher's Companion – 100% unlocked for you to customise exactly the way you want.  Suitable for people wanting to use as-is, or customise with the latest Claris FileMaker 19. Claris even provides a free 45-day trial of Claris FileMaker 19.
Need Teacher's Companion for earlier versions of FileMaker Pro 12+ or higher?
Why not check out: Teacher's Companion Legacy
100% unlocked so you can modify and add features
This means, you can now delve under the hood of our latest version of Teacher's Companion PRO and modify the layouts, scripts, and even the database structure. We understand that solutions off-the-shelf may not be perfect for everyone and sometimes customisation is needed to get it just right. An unlocked version allows you to:
Further develop the solution to exactly the way you want it
Get a head-start customising a ready-made solution without the need to start from scratch
Learn how a database solution like Teacher's Companion PRO is built
Just consider how cost-effective it is be to pay for a solution that covers most bases of your teaching school or business, whilst having the flexibility to customise the database solution further to your exact requirements.
The solution has also been optimised to work on Apple devices (i.e. iPhones and Tablets) running the free Claris FileMaker Go 19 app.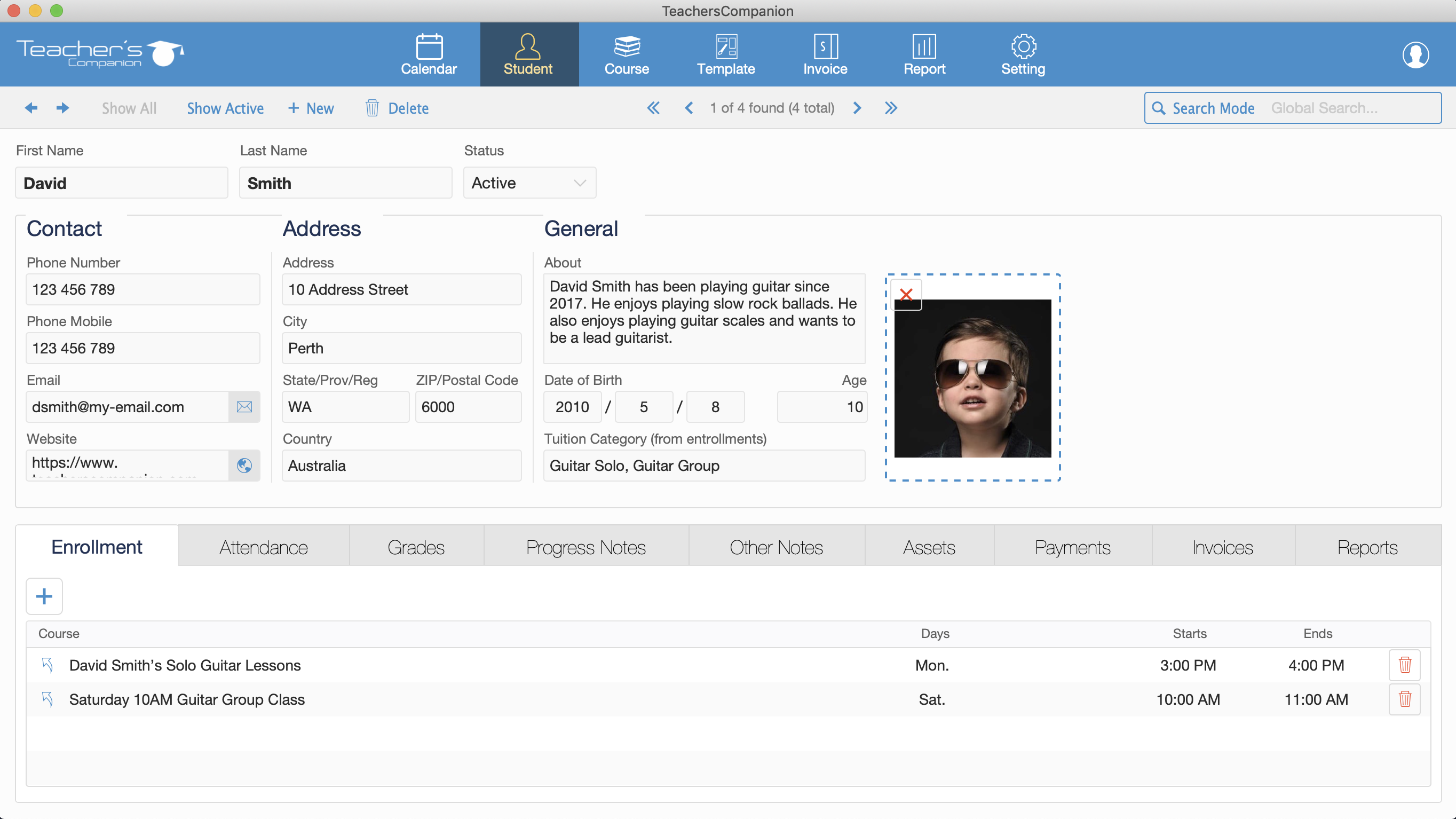 What you get
For your purchase, you are getting the latest Teacher's Companion developer master file, which is 100% unlocked and built on the rock-solid Claris FileMaker database platform. Teacher's Companion has been optimised on both the iPad running Claris FileMaker Go 19 and Mac or PC desktops running Claris FileMaker 19.
Claris FileMaker Go 19 on iPad
Download the Claris FileMaker Go 19 app from the Apple App Store for FREE
Open Teacher's Companion in Claris FileMaker Go 19 on your iPad
Transfer files from your Mac or PC to Claris FileMaker 19 using iTunes
Claris FileMaker 19 on Mac or PC
Customisations and developments
We are more than happy to help you customise or develop Teacher's Companion further to meet your specific requirements. In fact, we may even provide developments pro gratis (i.e. for free), if we feel it would be a good addition to our Claris FileMaker marketplace of useful solutions.
We would love to understand what you are trying to do with Teacher's Companion, so why not drop us an email via our contact form, and we will get back to you as soon as possible. 🙂
Teacher's Companion screenshots
For users, we have provided screenshots of the solution layouts below. For developers, we have also provided brief screenshots of the database structure and script screenshots. Even if you don't require a Claris FileMaker database solution to manage students and lessons, you will definitely find many useful scripts inside Teacher's Companion for any other Claris FileMaker development work.
Teacher's Companion has been developed by a number of professional Claris FileMaker developers for over 10 years. You will find many extremely useful scripts inside this solution that will help you with your own Claris FileMaker developments. For example, we created a smart file upgrade script that allows the solution to self-update to a later version without losing any of the existing table data.
Additional Downloads

  End User License Agreement (EULA) 
Important Notes:
The list below are some important notes you will need to consider before purchasing:
the solution requires either: Claris FileMaker 19 or the free Claris FileMaker Go 19 on iPhone/iPad
the solution is sold as-is
there are strictly no refunds
we do not provide any support
the solution does not have documentation
you agree to the End User License Agreement (EULA)